Dolt roadmap retrospective
11 min read
A few months ago I got interviewed by a substack on open source development about Dolt. One of the questions I was glad to answer was what motivates me to contribute to Dolt. Well there's the money, obviously. But more than that, it's being part of a culture that ships.

At DoltHub, we ship major new features every month, and a stream of smaller improvements and bugfixes on a continual basis. We ship so often, in fact, that it can be hard to keep track of what we've accomplished and what we're going to do next. This blog post is an attempt to pause and take stock of how far the product has come in the last couple years, and reflect on where we're going next.
Product planning at DoltHub
When we interview candidates, there's always a period when we flip the process around and let them ask us questions instead. One of the most frequent questions we get from experienced candidates is: what sort of project planning process do you use? Because we've been in the industry for decades, we recognize this question for what it is: a desperate plea to not have to use Jira or play planning poker ever again.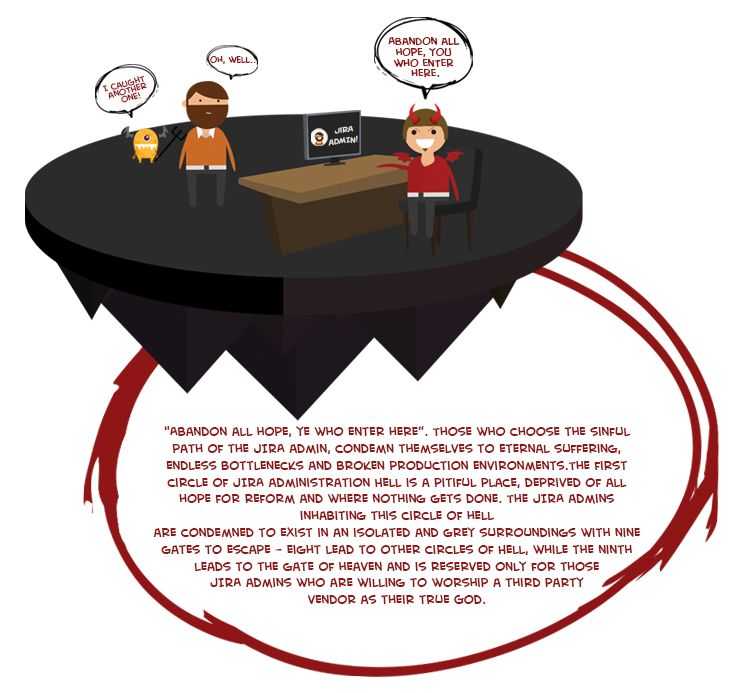 I tell them it's pretty simple. We have a big spreadsheet that we use to keep track of planned feature work, and every month or so we update it to reflect progress and priorities. It looks like this: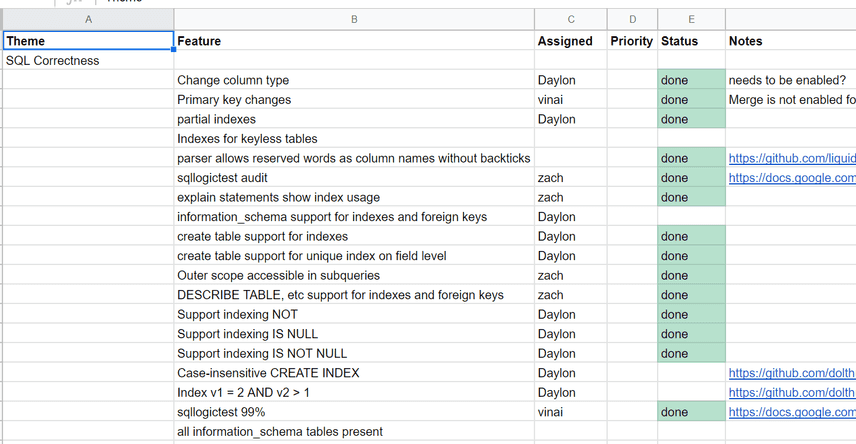 We add new features there when we decide to work on them, and move rows up and down to indicate their relative priorities. For time-sensitive work, we'll sometimes add a deadline to a row. But that's basically it, very little process. The main point of the spreadsheet is to enable us to have discussions about staffing tradeoffs and customer expectations.
If we deliver stored procedures in October, what else has to slip?
If Andy works on rewriting the storage layer, who will take over keyless table storage?
We also end up doing a lot of unplanned work, typically requested by a paying customer. They come to us with a query that's too slow or doesn't work correctly, and we give their issue top priority until we have a workaround. Sometimes those issues will get logged on GitHub, but often they never leave our customer chat rooms on Discord. And that's fine. The point of the roadmap isn't to perfectly capture all the work we do (release notes capture that pretty well), it's to help us plan.
Victory lap
At DoltHub, we ship a lot. We announce new features on this blog as they come out, but I want to take a moment to put all these accomplishments in one place, so that you (and we) can appreciate just how many there are. Warning: this is a long list!
And there's a lot of stuff not even on this list, either because it got done without any fanfare or because it predates when we adopted even this limited planning process. DoltHub is a company that ships, a lot.
Today's roadmap
The product is a lot more mature today than a few years ago, as one would hope. In the earlier days there were so many missing features that prioritization was actually pretty easy: unless somebody was asking for a feature, we would be adding a lot of value no matter where we turned our attention, so strict prioritization didn't matter too much. I joked about this situation in an earlier blog post, but having such a huge surface area to cover was actually really fun and made planning pretty easy.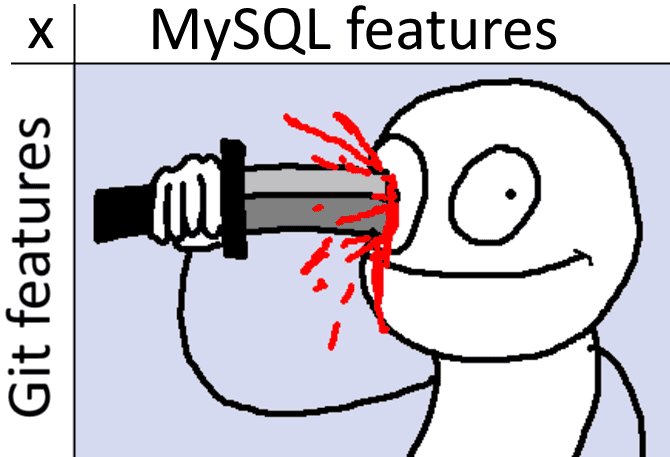 Today things are a little harder. Besides being an environment that is less target-rich than before, we have a growing number of paying customers and their use cases to support, and a larger pool who would adopt the product if it had some capabilities it doesn't yet. So it's more important now to think about what we're going to support next to make our existing customers happy and lure new ones.
This is always a work in progress, but here's our current top priorities for Dolt:
| Feature | ETA |
| --- | --- |
| Hosted Dolt | Jan 2022 |
| Join for update | Oct 2021 |
| Backup and replication | Nov 2021 |
| Commit graph performance | Nov 2021 |
| Collation and charset support | Nov 2021 |
| Persistent SQL configuration | Dec 2021 |
| Multiple DBs in one repo | Dec 2021 |
| Tx isolation levels | Dec 2021 |
| 99.9% SQL correctness | Q1 2022 |
| Better dolt_diff table experience | Q1 2022 |
| Hash join strategy | Q1 2022 |
| Storage performance | Q1 2022 |
| SQL GUI support tests | Q1 2022 |
| Lock / unlock tables | Q1 2022 |
| Users / grants | Q2 2022 |
| JSON_TABLE() | Q2 2022 |
| Pipeline query processing | Q2 2022 |
| Table / index statistics | Q2 2022 |
| Universal SQL path for CLI | Q2 2022 |
| Row-level locking (select for update) | Q2 2022 |
| Virtual columns and json indexing | Q2 2022 |
| Embedded dolt | Q3 2022 |
| Signed commits | Q3 2022 |
This list is mostly ordered by planned release date, which gets less certain as we get farther out. Our top priority, hosted Dolt, is a relatively large effort and a major launch, scheduled for year end. Most of the other items on the list are a lot smaller, but there are exceptions: storage performance is code for a near-total rewrite of the storage layer to make it performant for the SQL server, which is a monumental effort (good luck, Andy).
We expect to rearrange this list as time goes on, and for new items to emerge and jump the line. Paying customers (or prosepective paying customers) get write access to this roadmap, so if things go well this list will be obsolete in no time flat.
Conclusion
DoltHub ships, a lot. We're proud of the product features we've shipped so far, and eager to put more under our belt. If that sounds like an environment you'd like to be a part of, we're hiring!
Like the article? Interested in Dolt? Think we should be working on other things instead? Come join us on Discord to say hi and let us know what you think.