Private Repositories are Free
2 min read
Dolt is a SQL database with Git-style versioning. DoltHub is Dolt's GitHub.
A few weeks ago, we made private repositories free up to 1GB and announced it on Twitter.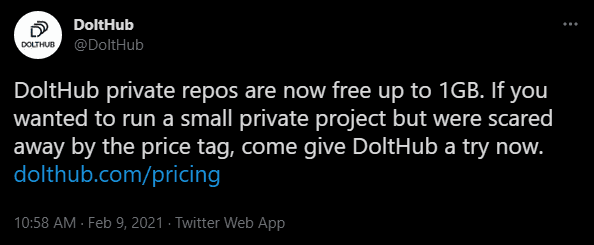 This blog explains why we made private repositories free up to a Gigabyte. Sorry it took so long.
Why are private repositories a paid feature?
When we set out to build Dolt, we had the data sharing use case as a north star. We leaned heavily into the Git and GitHub metaphors. Dolt would be a free open source tool akin to Git. DoltHub would be a free place to share public Dolt repositories. People would pay for private Dolt repositories just like they pay for private GitHub repositories. The difference was, DoltHub pricing would scale with storage, not users, because paying for users is annoying.
Also, cloud storage, especially egress, cost a lot of money. Cloning the 200GB fbi-nibrs database costs us $20. We did not want to be in the free cloud storage business.
What changed?
Well, no one bought private repositories 👎.
After being in market for over a year, we realized that trying to monetize Dolt with private repositories was like trying to monetize Git with private repositories in 2005. It was just too soon. We need to lower the barriers to adopting a version controlled database in the first place. It's a new concept. Once people adopt the technology, we can figure out the best way to monetize it.
We also had some success selling support licenses for Dolt as a database. Dolt is fast becoming MySQL compatible and companies are willing to make sure they can call someone if their database breaks. This seems like a more promising way to make money in the short term than selling private repositories.
What is the pricing now?
We made private repositories free up to 1GB. Sign Up for DoltHub Pro for free. You'll have to enter your credit card information. If you go above 1GB, we'll start charging you $50/month. If you go above 100GB, we'll start charging you an additional $0.10/GB per month.
Try Dolt and DoltHub out for free with a small database. You don't need to make the data public to experiment. This is a much more welcoming message. Not there yet? Come chat with us on Discord to figure out how we can help you.